Practitioner Order Page
Quantity
Image
Cost
Retail Price
Your Profit
Nuphorin 24 Bottle Case
Nuphorin 150 Bottle Case
Wholesale Price: $3375.00
Nuphorin Pallet (3600 Units)
Wholesale Price: $72,000.00
SKU: NUPHORIN-60CT-3600PK
Frequently Asked Questions
Q. How long will it take to receive my package?
Please allow up to 2 weeks to receive your package after placing your order. Often times shipping will be much quicker than this but we like to make sure to give you the longest shipping time so you can make informed inventory forecasting so you don't run out of stock.
We highly recommend registering for a free account so you can track your shipments and see all of your past orders. To create a free account click here and you'll be brought to the sign up page.
Q. Do I need to enter my practitioner access code every time I reorder?
No. We've created a user friendly way to link your practitioner access code to a registered account so you don't need to keep entering your access code. Just follow these 2 simple steps and you won't have to enter your access code again:
1. Simply create an account by clicking the "Log In / Register" button at the top right of your screen (desktop):

2. While you are signed in navigate to the Practitioner Order Page by clicking the "Place an Order" like you normally would:

Enter your practitioner access code and now your code will be linked to your account. For future orders just log into your account and the practitioner order page will be automatically unlocked. Another great benefit of creating an account is the ability to lookup orders and track your shipments inside your account. Click here to create your free account now!
Q. What are the benefits of your Referral Rewards program and how do I sign up?
Our Referral Rewards program is similar to other practitioner-only supplement brands that you may be familiar with. The way it works is that when a patient purchases Nuphorin directly from you in your clinic you can then give them a unique coupon code for 5% off reorders at Nuphorin.com. Each time one of your patients reorders Nuphorin you will receive a flat-rate commission of $10 per bottle. These commissions accrue until the 1st of each month when we will send you a payment via PayPal for the previous 30 days commissions. We use a reputable 3rd party affiliate management service called Refersion to manage the whole process.
Getting started is easy. Just follow these 3 steps to get started:
1. Hover your mouse over the "Practitioner" link and click "Referral Rewards":

2. When prompted enter your practitioner access code. This is the same code you use to access the wholesale order page:

3. Fill out the Referral Rewards application form and when you're finished click the "Apply" button.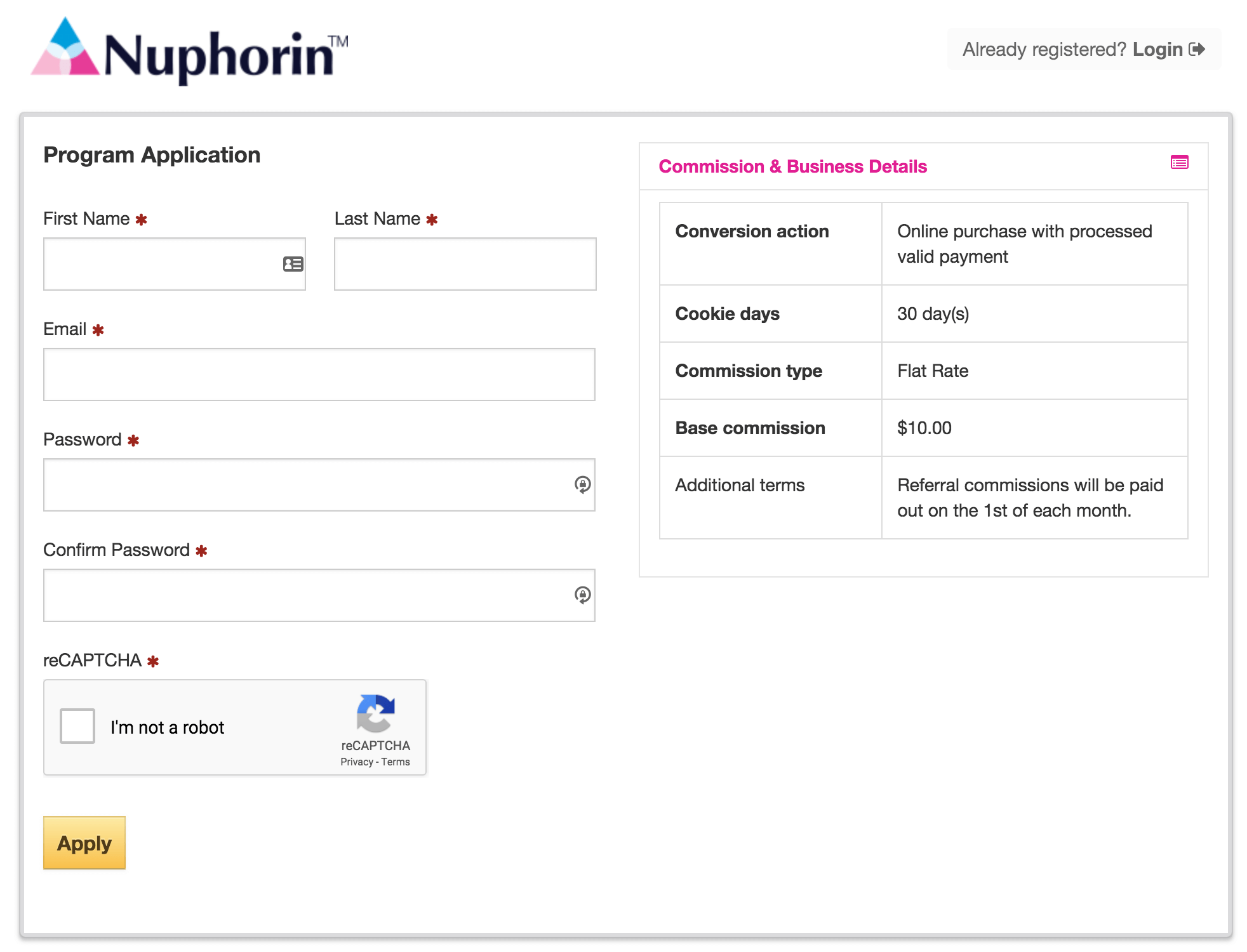 Once you've submitted your application we will complete our review within 24-48 hours and upon approval you will receive a welcome email and unique patient code. The patient code is the code you will give to your patients that they will use at checkout on reorders to receive a 5% discount. This same code also triggers your commission to be recorded within our system.
You can log into your Referral Rewards account anytime by clicking the "Referral Rewards" link and logging in. This will bring you to your custom dashboard where you can see all of the commissions you have earned as well past payments and other useful information.